SK innovation conducted materiality assessment to identify material issues for a sustainable management.
The pool of issues were organized based on internal and external environmental analysis such as international standard analysis,
benchmarking of leading companies and media research. The materiality assessment results were identified by calculating the impact on stakeholders and
relevance to business of the selected issues.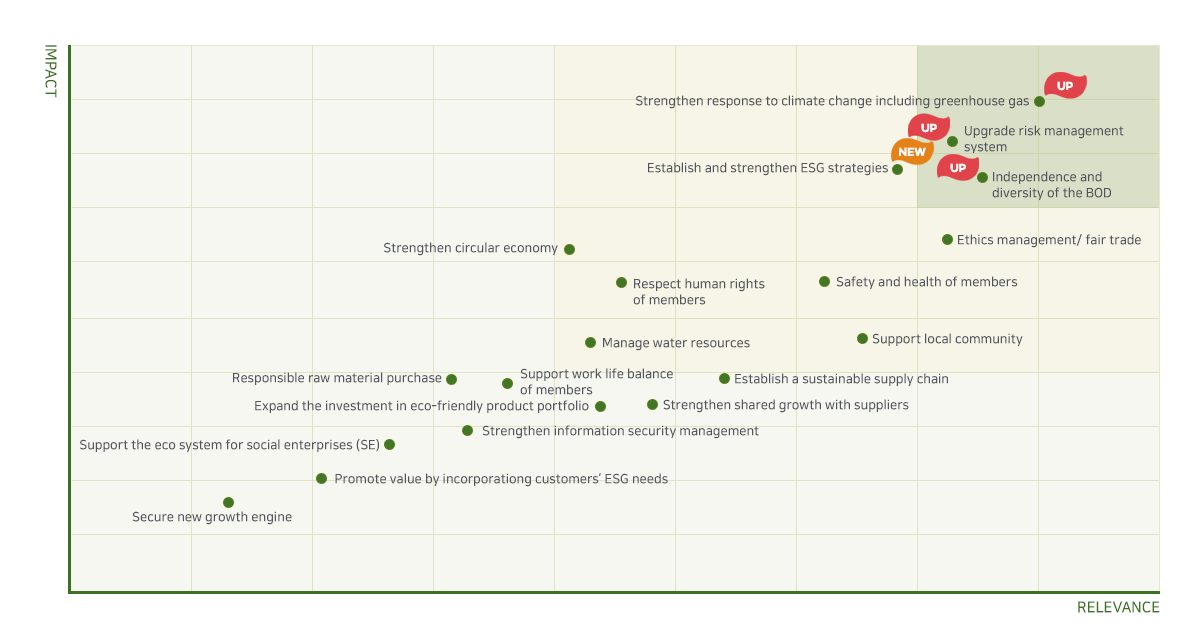 Establishment of the global pandemic response system

Establishment of the

global pandemic

response system

SK innovation made an effort to remove the risk in the company and society amid COVID-19 pandemic situation in 2020. Externally, we provided support for quarantine activities through safety net and resolution of social issues caused by COVID-19 and internally, we responded to changes in the market flexibly. SK innovation will secure the sustainability of the company and the society by responding to social risk closely.

BIZ. ACTIVITY


(Response to external risk at the business level)

Response to
business risk
In line with the rapidly changing market environment due to COVID-19, SK innovation implemented various response activities in a timely manner by adjusting process utilization rate and change in the type of oil produced as well as identifying new options for the operation of process and products to respond actively to the reduction in the demand for petroleum products and margin.
Securing safety

at business sites
HQ and branch offices

SK innovation operated 'Guide to COVID-19 prevention in daily lives' with the goal of preventing the spread of the virus among employees at HQ and branch offices. If there are confirmed cases or employees subject to quarantine measures, we are conducting measures for evacuation, classification of those in contact with positive people and quarantine measures. Essential quarantine rules to follow are established and monitoring and giving instruction are conducted every week to check whether essential rules are followed or not.






Domestic and overseas business sites

In order to minimize the damage caused by the shutdown of business sites due to the COVID-19 infection and to ensure stable operation of the business sites, each business site of SK innovation is systematically conducting monitoring and response activities. Overseas businesses such as the U.S., Hungary, and Poland have established a system by the characteristics of each region and are conducting response activities based on it. In collaboration with government and private medical institutions, We worked on preemptive vaccinations for the number of people staying in the workplace. An emergency response committee was formed to protect the number of existing residents through systematic response activities, and to prepare scenarios for the occurrence of infections.




Establishment of 'actual' BOD-driven

management system
Governance innovation orientation
Strategic direction
"Improving diversity in terms of
gender, age, race, ethnicity, etc. and
operating the BOD driven by outside directors"
ㆍSecuring diversity of the BOD
ㆍStrengthening the autonomy of the BOD
ㆍStrengthening the accessibility of the BOD to information

"Strengthening the role of the Future Strategy
Committee and establishing ESG Committee"
ㆍExpanding the Future Strategy Committee
ㆍEstablishment of the ESG Committee


"Giving the right to evaluate and compensate CEO to HR Evaluation and Compensation Committee"

ㆍReviewing evaluation, compensation and succession of CEO

" Re-establishment of BOD evaluation and compensation system with
strengthened role of outside directors and strengthening communication
led by BOD."
ㆍEstablishment of BOD evaluation and compensation system
ㆍStrengthening BOD's communication with the financial society

Upgrading BOD-driven

global compliance response system
Governance innovation orientation
Strategic direction
"Expanding the role of existing Audit Committee to respond to
corporate compliance and risk"
ㆍExpansion of the Audit Committee
"Promoting the establishment of global compliance system
for the systematic management of compliance risk"
ㆍEstablishment of global compliance system
ㆍEstablishment and operation of global compliance program